20 October 2021
Tribute to Sir David Amess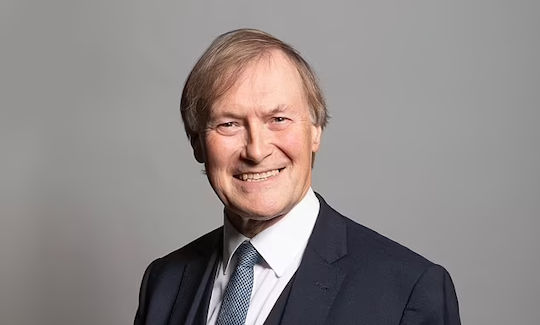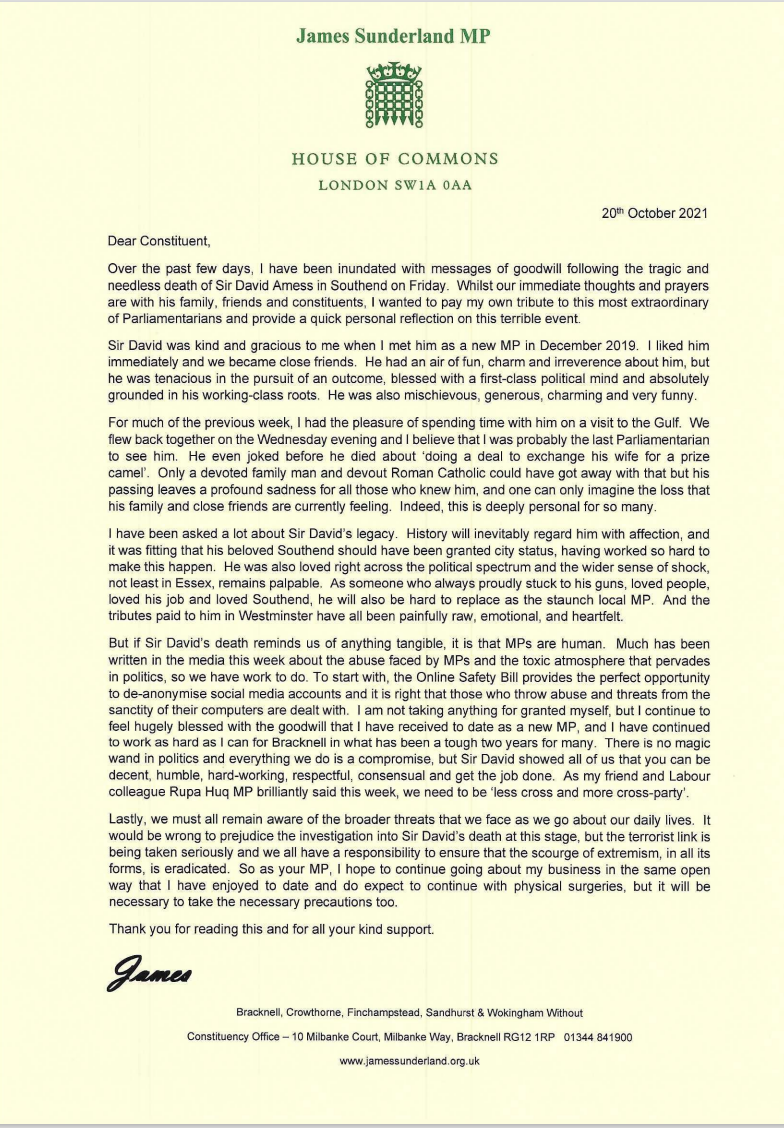 Text Version:
Over the past few days, I have been inundated with messages of goodwill following the tragic and needless death of Sir David Amess in Southend on Friday.  Whilst our immediate thoughts and prayers are with his family, friends and constituents, I wanted to pay my own tribute to this most extraordinary of Parliamentarians and provide a quick personal reflection on this terrible event.   
Sir David was kind and gracious to me when I met him as a new MP in December 2019.  I liked him immediately and we became close friends.  He had an air of fun, charm and irreverence about him but he was tenacious in the pursuit of an outcome, blessed with a first class political mind and absolutely grounded in his working class roots.  He was also mischievous, generous, charming and very funny.
For much of the previous week, I had the pleasure of spending time with him on a visit to the Gulf.  We flew back together on the Wednesday evening and I believe that I was probably the last Parliamentarian to see him.  He even joked before he died about 'doing a deal to exchange his wife for a prize camel'.  Only a devoted family man and devout Roman Catholic could have got away with that but his passing leaves a profound sadness for all those who knew him and one can only imagine the loss that his family and close friends are currently feeling.  Indeed, this is deeply personal for so many.
I have been asked a lot about Sir David's legacy.  History will inevitably regard him with affection and it was fitting that his beloved Southend should have been granted city status, having worked so hard to make this happen.  He was also loved right across the political spectrum and the wider sense of shock, not least in Essex, remains palpable.  As someone who always proudly stuck to his guns, loved people, loved his job and loved Southend, he will also be hard to replace as the staunch local MP.  And the tributes paid to him in Westminster have all been painfully raw, emotional and heartfelt.
But if Sir David's death reminds us of anything tangible, it is that MPs are human.  Much has been written in the media this week about the abuse faced by MPs and the toxic atmosphere that pervades in politics so we have work to do.  To start with, the Online Safety Bill provides the perfect opportunity to de-anonymise social media accounts and it is right that those who throw abuse and threats from the sanctity of their computers are dealt with.  I am not taking anything for granted myself but I continue to feel hugely blessed with the goodwill that I have received to date as a new MP and I have continued to work as hard as I can for Bracknell in what has been a tough two years for many.  There is no magic wand in politics and everything we do is a compromise but Sir David showed all of us that you can be decent, humble, hard-working, respectful, consensual and get the job done.  As my friend and Labour colleague Rupa Huq MP brilliantly said this week, we need to be 'less cross and more cross-party'.
Lastly, we must all remain aware of the broader threats that we face as we go about our daily lives.  It would be wrong to prejudice the investigation into Sir David's death at this stage, but the terrorist link is being taken seriously and we all have a responsibility to ensure that the scourge of extremism, in all its forms, is eradicated.  So as your MP, I hope to continue going about my business in the same open way that I have enjoyed to date and do expect to continue with physical surgeries, but it will be necessary to take the necessary precautions too.  Thank you for reading this and for all your kind support.