If you would like to contact me or have a problem with which you need assistance, please email or write to me. Please make sure you include all the information and documentation relevant to your case, as well as your full address, including postcode, and any applicable reference numbers.
Meetings and surgery appointments can also be requested by calling 01344 481900.
Email: james.sunderland.mp@parliament.uk
Phone: 01344 481900
Write: 10 Milbanke Court, Milbanke Way, Bracknell RG12 1RP
TikTok: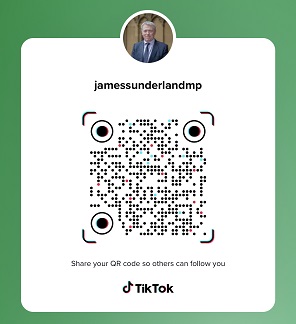 If your concern relates to any of the public services listed below, you should contact your local council or local Councillor in the first instance.
Adult & Family Learning 
Benefits
Council Tax Collection
Environmental Health
Highways 
Housing
Leisure Facilities 
Licensing
Museums & Libraries
Planning Permission & Disputes 
Refuse Collection 
Refuse & Waste Disposal Sites 
Schools 
Social Services 
Strategic Planning Matters 
Street Cleaning
Town Planning
Wokingham Borough Council