20 September 2022
The global fight against malaria must continue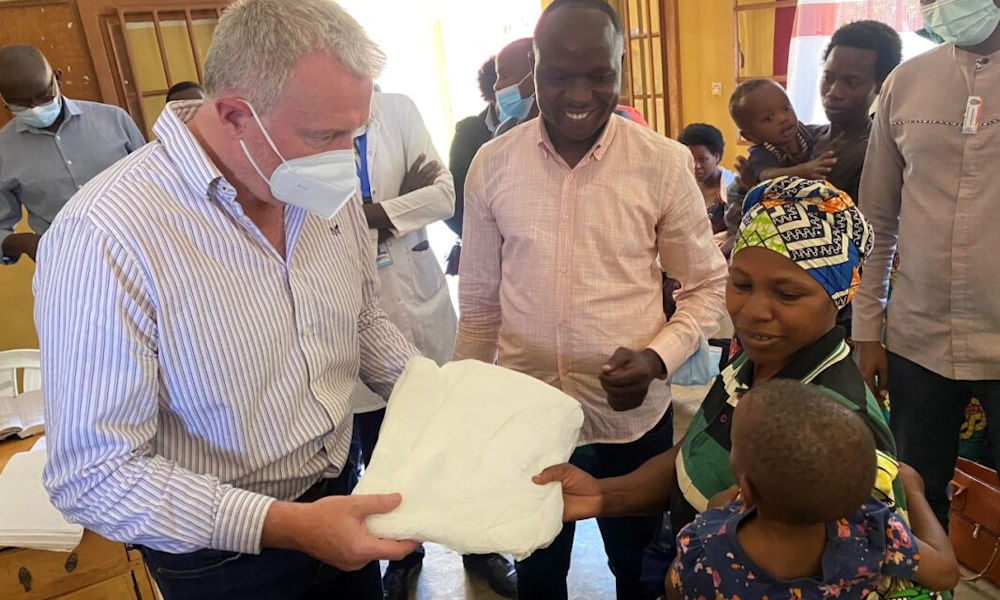 This week, the USA is hosting the Seventh Replenishment of the Global Fund to Fight AIDS, Tuberculosis and Malaria.  This important global conference is where countries will pledge their funding commitments for the next three years to help defeat these horrible illnesses.
The extent of the UK's contribution will be one of the first key foreign policy undertakings for the new Prime Minister, a decision which has the potential to shape the UK's reputation on the world stage and accelerate progress against the world's deadliest infectious diseases.
Twenty years ago, the UK Government co-founded the Global Fund – an organisation which has helped save 50 million lives to date.  A key target for this vital work is malaria, a life-threatening, yet fully preventable and curable, disease, which has devastated mankind for centuries. Half of the world's population lives under its terrible shadow. Children under five are particularly vulnerable.  On average, one child dies from malaria every minute.
Over the last two decades, huge progress had been made in malaria control, supported by UK investment and leadership, in the areas of prevention, treatment and research.  This has been a source of real pride for the brilliant brains at the heart of this work. But in 2018 that progress began to stall.  Faced by the Covid-19 pandemic and new threats such as drug and insecticide resistance, climate dangers and our changing natural environment, malaria deaths have risen to the highest rate in nearly a decade.  In 2020, 627,000 lives were lost.
Having seen first-hand the devastating impact of malaria and watched helplessly as others succumbed to it, I am clear that the UK must not renege on its global responsibility.  In June, I was privileged to attend the successful Kigali Summit on Malaria and Neglected Tropical Diseases, where the UK endorsed the Commonwealth's goal to end the malaria epidemic by 2030.
While in Rwanda, I also visited an antenatal health clinic where mothers spoke passionately about the effects of insecticide-treated nets in keeping their babies alive and allowing families to sleep at night.  In 2021 alone, the Global Fund distributed a staggering 133 million insecticide-treated nets to protect vulnerable people from malaria, just one of the many examples of incredible, lifesaving, preventative interventions that are making a real impact.
The Global Fund also works with international partners to provide timely testing and treatment for the two million community health workers who remain critical to fighting malaria  In Rwanda, I met Thérése Twagiramariya, a volunteer community health worker, who has worked for years to help those in her locality to detect and treat malaria.  She is passionate about her work. Her purpose is to keep people alive.  For them, it is about life and death.
The Global Fund is effective, cost-efficient, and ensures that all interventions get to the right people, at and in the appropriate time and way.  In countries where the Global Fund invests, malaria deaths have dropped by 26 per cent since it was founded in 2002. Without these interventions, fatalities would have increased by a staggering 84 per cent over the same period.  In fact, the Global Fund provides more than half of all international finance for malaria programmes and the need for continuity is clear throughout all affected regions.  It is no exaggeration to state that if we take our foot off the pedal now, we risk a widespread resurgence of a disease that we have worked so hard to defeat. Millions more will die.
As one of the few countries of the G7 yet to declare its hand, the UK must not now step back.  As a proud Conservative and member of the new Government, I remain in awe of our long-standing commitment to tackling malaria and how we have led the way with exciting new vaccines and technology.  But these significant strides in funding, research, innovation, vector control and pioneering drug development are in danger of being undermined.
Despite the huge fiscal challenge facing the UK, our commitments on supporting women and girls, health systems and the fight against malaria and NTDs should be maintained if we are to play our rightful role at the head of the global fight.  I have no doubt that our new Prime Minister and Foreign Secretary will honour them. But the extent of that contribution remains unclear.  Importantly, if we invest now, there really is an end in sight.  Other countries are stepping up: the United States and Germany leading the way in their early commitments to the Replenishment.  We must do so too.
Lastly, the economic benefits of continuing to invest into the Fund are staggering.  In 2015, it was estimated that malaria cost the African economy  around US $117 billion in lost productivity.  Research has also shown that every $1 invested in the Global Fund results in approximately $31 in health and economic returns and that each 10 percent reduction in malaria incidence is associated with an average rise of 0.3 percent in GDP per capita and faster GDP growth.  Indeed, the downstream benefit to UK trade alone could be trillions of pounds.
As we approach the Seventh Replenishment on Wednesday, I urge the new Prime Minister to be ambitious, kind and bold.  This would be a timely and impressive marker in the sand.