18 October 2021
MP unveils subway transformation
Local MP James Sunderland helps unveil a revamped underpass mural painted by nationally acclaimed, award-winning artist Lynne Hollingsworth. The mural offers a bright and positive message about sustainability, community and green energy. The artist was assisted by a team of local volunteers over several days in September and the mural was funded by Bracknell Business Improvement District (BID).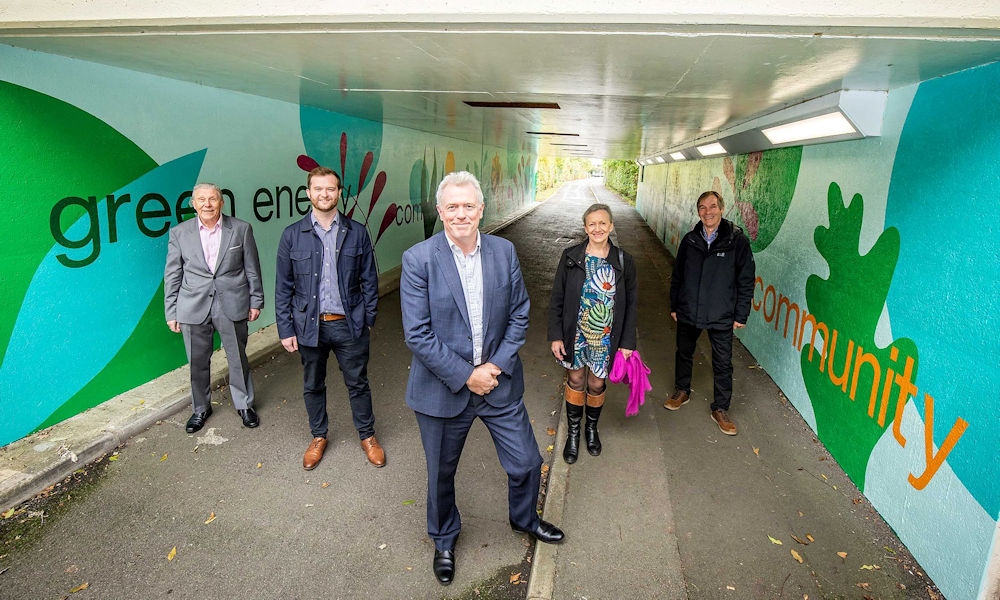 The subway, which runs under Berkshire Way and connects the Southern and Western Business Areas in Bracknell between Downmill Road and Oldbury, is regularly used by pedestrians and cyclists who work in the area.
James joined members of the Bracknell BID Board Peter Smith and Bob Collis, BID Manager Sean Griffin, and Sue Pitt, one of the volunteers who gave her time to work on the mural.
James said:
"I was pleased to have met the team from Bracknell BID and local volunteer Sue Pitt on site to see this great work.

"There are 76 subways in Bracknell and Sue suggested it would be great if, with the support of Bracknell Forest Council and Bracknell Town Council, we encourage volunteers to create a trail across the town by painting murals in all the subways. Now there's an idea to complete for the Queens Jubillee year…"